Ballet Dreams Cushion
Your little girl will love playing with these beautiful mice, and after she has finished she can put them to bed on this gorgeous cushion, before tucking up herself to have Ballet dreams...
With a fluffy rim, pretty tassles and sparkly tutus it is a beautiful addition to any pink bedroom.
Approx Size 12"x12"
   Price: £13.99
                                                  Currently Out of Stock
Ballet Mice Mobile
Watch these 5 Beautiful Mice twinkle in their pink sparly tutus. This pink mobile looks beautiful in any princesses bedroom. 
Price £14.99
Currently out of stock 
Wall Hanging 
Another member of the cute ballet mice range. This set of gorgeous ballet mice will bring your walls to life. Each one is dressed in her own pink sparkly tutu, they are all connected with a beautiful pink plaitted ribbon 
Price: £8.99
                                                                                       Currently out of stock
Fairy Mobile  
7 sweet fairies hang from this remarkable fairy mobile. This item continues to remain a popular choice, adding a soft touch to a child's bedroom. The colour of the fluff on this mobile is darker then the photo, its more like the colour on the 1st photo on the darker fairy.
Price: £14.99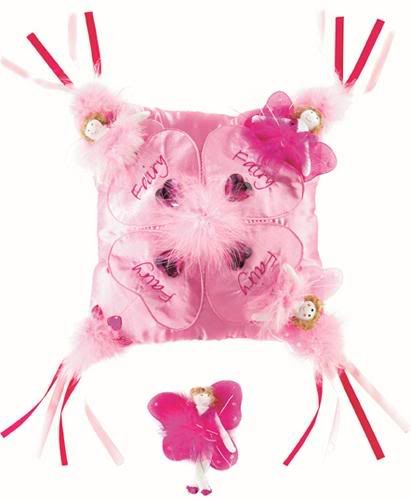 Ballet Dreams Cushion
This beautiful satin and jewel cushion has four goregous glittery fairies each tucked in to a heart shaped pocket. It also has beautiful embroidery and marabou detail making it a lovely present for any fairy fan to keep safe in there bedroom!
Approx Size 12"x12"
   Price: £14.99
Large Fairy Organiser Board
Fairy Organiser Board, keep all of your important invitations and bits of paper safe with this fairy organiser board! 
It hangs on the wall from the ribbon at the top.
£14.99